The Hot Yoga Om studio in downtown Fort Walton Beach is flowing into an incredible 2019. Our students and teachers are enriching their practice while making deep connections and working towards a stronger and more peaceful self.
Our daily hot yoga classes are for all levels and we welcome everyone to experience the difference at our hot yoga studio in downtown Fort Walton Beach. Our hot yoga teachers bring their souls to the mat. Experience far-infrared heating panels give you a clean, safe, dry heat that completely changes your hot yoga class experience.
Hot off the press – here is the latest and greatest news for Hot Yoga Om for February 2019:
Hot Yoga Class Monthly Specials:
New students to the Hot Yoga Om studio can enjoy two weeks of unlimited hot yoga classes for $20. Hot Yoga Class Packages include 10 classes of yoga for $75 and one month of unlimited yoga classes for $85 (save $35).
These hot yoga packages apply to our wide variety of hot yoga classes for all levels, including different room heated temperatures, gentle slow flow classes and high energy hot yoga classes. To purchase a hot yoga package and see our class schedule, click here.
Hot Yoga Class News for February
We invite you to join Lori Hupp on Sundays from 4:30 – 5:30 pm for our Deep Connections YIN Class. This hot yoga class is perfect for the beginner and experienced alike. It offers the balance of both yin and yang philosophies aiming to increase strength and flexibility, which allows more energy and lower stress.
In the Yin practice, each posture is held from 3-5 minutes resulting in a beautiful peaceful release in the body. In the Yang practice, we return the body to effortless, fluid movement with breath. To schedule your Sunday Deep Connections Hot Yoga Class, click here.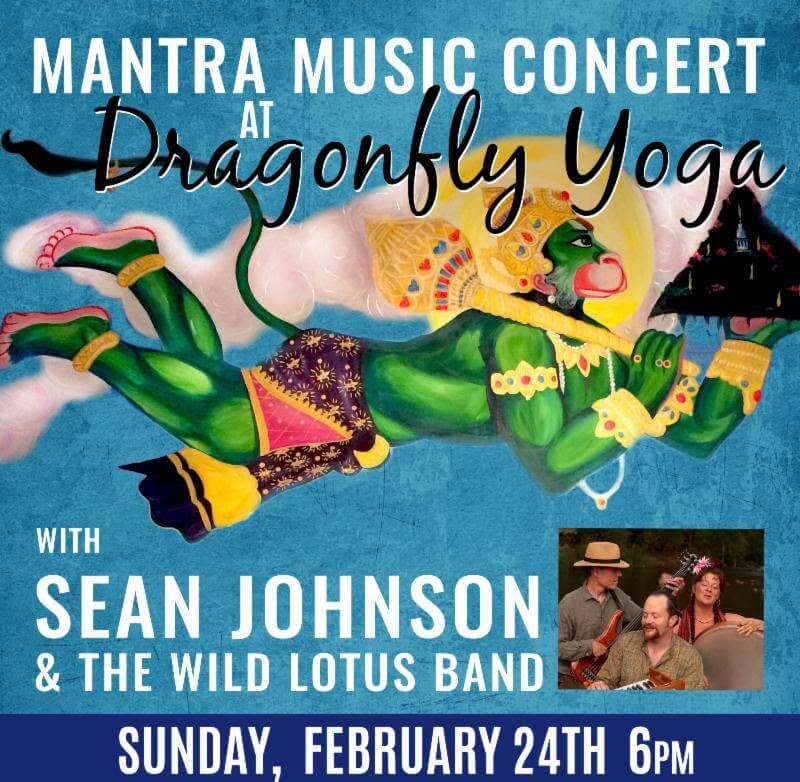 Also, our sister Dragonfly Yoga in Fort Walton Beach is hosting a fun Mantra Music Concert with Sean Johnson and the Wild Lotus Band on Sunday, February 24th at 6 pm. Free your heart and stir your soul in this evening of ancient mantras given new voice through dynamic songs that merge New Orleans roots, rock, gospel and world grooves.
Sean, Alvin and Gwendolyn's latest album Unity debuted #1 on the iTunes World Music Chart and #3 on Billboard. Their music has appeared on Putumayo World Music and they are the first kirtan-based band to ever play the New Orleas Jazz Festival. Cost is $25. Sign up online or at the Dragonfly Yoga Studio in Fort Walton Beach.
Tips for a Successful Hot Yoga Class
Due to the popularity of our hot yoga studio in Fort Walton Beach, our hot yoga classes tend to fill up quickly. Here are some tips for success so you're not sweating it to make it to a class:
You must pre-register for a class to have a mat space held for you until 7 minutes before class time.
The easiest and quickest way to register for a class to reserve your spot is through our Hot Yoga Om app. Just go to your app store and search for Hot Yoga Om. Available through Apple, Google Play and more. Through the Hot Yoga Om app, you can see our most recent hot yoga classes schedule, sign up for hot yoga classes, add reminders and get studio promotions.
Walk-in students to our Fort Walton Beach hot yoga studio may take available mat space 5 minutes before class. First come, first serve basis.
If you pre-register and miss your window, missing your hot yoga class, your name will be removed from the class list and your package will be re-applied or your drop-in fee will be held in your account.
Yoga Teacher Training by Laura Tyree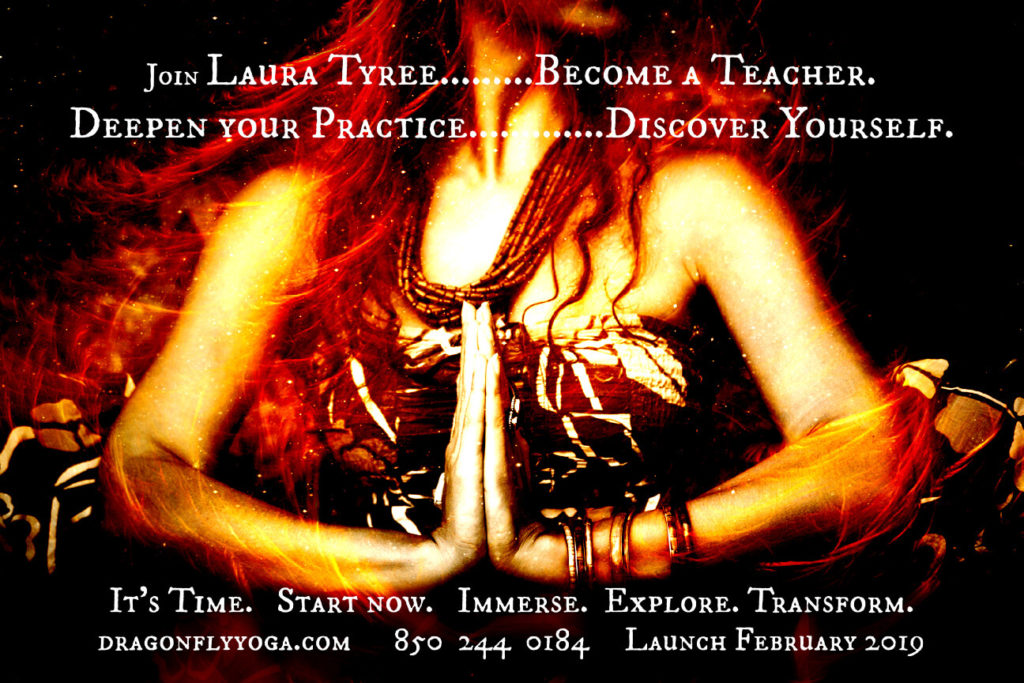 Laura Tyree is excited to open a world of opportunities in 2019 with its Registered Yoga Teacher 200 Hour (RYT 200hr) Yoga Teacher Training Program beginning in February. This nine month journey into the world of Yoga Teacher Training will transform you into a new you by the end of this program. With over 20 years in development and hundreds of people certified to teach yoga, Laura's Yoga Teacher Training program is unlike any other in the area. Whether you want to be a yoga teacher or just have the yearning to learn more about the mystical world of yoga, this Yoga Teacher Training program will take your practice deeper and give you a greater appreciation for yourself and your life.
"There is an unspoken, yet divine interaction that occurs within that leads to greater peace and understanding," stated Laura Tyree, owner and primary trainer at Dragonfly Yoga. "With our Yoga Teacher Training program, you will receive the knowledge of teaching an empowering, safe yoga class along with tools to connect and continue to grow and learn."
Click here to get more information on the RYT 200 Hour Yoga Teacher Training program and to download the application. Namaste!